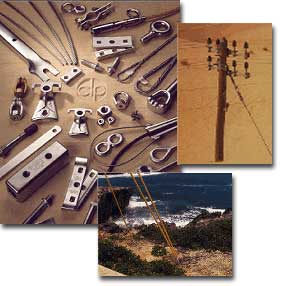 Strand and Wire Rope
Formed Wire Products
Pole Line Hardware
Turnbuckles and End Fittings
Swivels
Fasteners
Hangers and Supports
Banding and Strapping

Conduit Couplings and Hubs
Ground Rods
Cable Rings and Saddles
Crossarms, Braces and Brackets
Insulator Hardware
Fiber Optic Cable Hardware
Fine Wire and Lashing Wire
Cable Guards & Guy Markers
PROBLEM:

Aggressive environmental conditions from salt spray, chemicals, moisture and wind-driven sand continuously destroy galvanized pole line hardware. This destruction causes lost performance and erodes profits with:
Unscheduled downtime
Unreliability
Lost revenue
Repair Costs
Replacement costs
Maintenance costs
Loss of assets
Personal safety concerns
Pollution
SOLUTION:
Replace worn and corroded galvanized steel wire, formed wire, anchors, and pole line hardware with CLP stainless steel products and never replace them again. Dimensionally and functionally, CLP stainless steel products match the galvanized steel hardware you're familiar with except in one important way. In most corrosive environments, CLP stainless steel pole line hardware lasts indefinitely.
Put more than a half-century of experience on your next corrosive environmental challenge.
From prototype to production runs, CLP satisfies even the most demanding customers with products manufactured under stringent quality standards. Material certifications, traceability and engineering assistance are available. Research and development facilities provide proof testing of products and assemblies.